Process: Peter Bodenham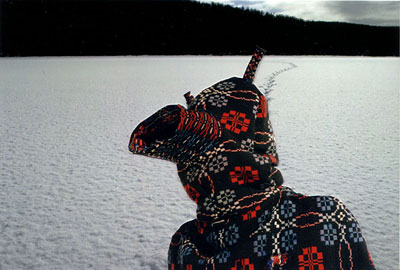 The unfamiliar and spectacular landscape we encountered clearly became primary inspiration. For me, my fascination with figures in landscape took on exotic and surreal dimensions. Experiencing figures in red jackets emerging out of a blizzard, moving across frozen lakes, created enigmatic and primal connections.
I arrived in Quebec with a small selection of hand tools including an axe and carving chisels. These tools were wrapped in a traditional Carthen (welsh blanket) with its distinctive design. I had little or no fixed ideas of what I was going to create or if I would use the blanket.
Landing in Montreal city and following a trip to the city museum I came across a Photograph taken in 1858 by John Dillwyn Llewelyn of a Canadian landscape he had created on his estate in Wales. It was an image that I kept returning to in my mind, creating interesting cross-cultural connections.
Moving north the physical and cultural landscape quickly merged, linking early traders (Coureur de bois) and our own cultural intervention. Ideas about trading identities and thoughts of hybridity at home and in Quebec started to develop in conversations and personal reflections.
The day often began by walking into the woods or across the lake, later working in a prospector's cabin carving spoons from wood collected during the day. I began to explore ideas of souvenirs, tourist art and symbols of national identity. I wondered why some objects appear as kitsch clichés and others as authentic reflections of a cultures identity. I began to make work around these ideas.
In the evening I worked deconstructing the blanket and constructing a garment and mittens out of Hudson Bay blanket material. Both blanket designs are social signifiers to their respective cultures and in a sense gather history and worlds around them. The blanket an object of warmth and comfort, became an early primary element of trade, the ironic fact was often the blanket-transported diseases killing thousands of first nation people. Once the garment was completed I walked along the road encountering logging trucks and the infrequent traffic. In simple terms my aim was to place these two distinctive blanket designs into the landscape to be witnessed, glimpsed at in a surreal form. A visual articulation of cross cultural ideas, which is difficult to reveal in rational terms.
The project, the artist I worked with and people we encountered in the Laurentian landscape are still generating challenging ideas about the environmental and cross-cultural exchange.