Process: Stefhan Caddick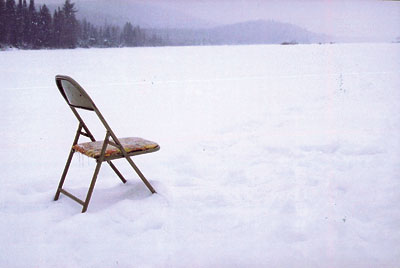 22nd February 2005
Up late. v. tired. Glued strap holders to skis, screwed + viced. Walked to end of lake with snow shoes on.
Walked back. Saw woodpecker + crossed lake following wolf/deer tracks.
Woodpecker with v. red head.
Sanded skis + varnished. Cooked tea with Francois, Pete + Simon. Orange, garlic, lemon juice, parsley + olive salad.
Watched flying squirrels with Ben + Simon.
V. flat tails, ruffled between fore + hind legs
Diary Entry