Process: Daniel Poulin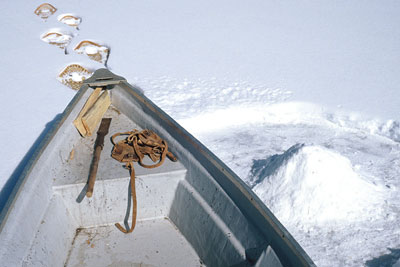 Do not forget the water : the action step by step. / Oublie pas l'eau : séquence de l'action
Wake up the row boat, sleeping upside down under the snow.
Sing a song for her: "I planted an oak", by Gilles Vigneault, for example.
Turn it over with precaution, on the yellowish grass on which she was dreaming since fall.
Look for a little help and drag her with determination on the frozen lake. Let her find the north. Be careful to come back on your tracks, shoveling to the ice the path followed while coming. Bring back the shoveled snow around the boat. Do not walk anywhere else, not to disturb the rest of the white arrangement which looks so natural. Dig a hole trough the ice to free the water and let her see the other side of winter.
Réveiller la chaloupe endormie sous la neige.
Lui chanter une chanson : << J'ai plant un chêne >> de Gilles Vigneault, par exemple.
La retourner avec précaution sur l'herbe jaunie emprisonnée dans son sommeil depuis l'automne.
Chercher de l'aide et la traîner vaillamment sur le lac gelé. La laisser trouver le nord.
Prendre soin de revenir à terre en pelletant jusqu'à la glace, comme une patinoire, le sillon fait à l'aller. Ramener la neige pelletée autour de la chaloupe. Ne pas laisser d'autres traces de pas dans la neige impeccable de naturel. Percer un trou à travers la glace pour libérer l'eau et lui montrer l'autre côté de l'hiver .
Daniel Poulin