Process: Simon Whitehead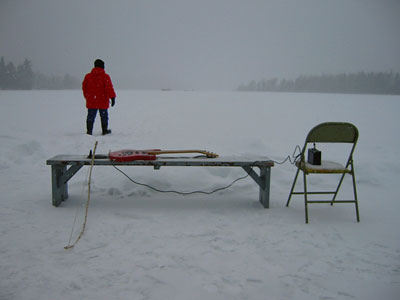 When Jeane Fabb asked if I was serious about resuming our exchange in the Laurentian winter, I realised in a kind of na´ve way that I was. The prospect of taking ourselves and our work into a landscape and season completely out of our experience was as exciting as it was unmeasurable.
My working process took on a series of of experiments and expeditions; the first in Montreal city, where I set myself the task of finding a red electric guitar. On the last day before travelling North, I found the red Profile Professional Strat copy in a small pawn shop, Monsiuer GI, I bartered for $150.
On the first day on the Lake I found a long stick, bark chiselled off by a Porcupine. These cultural and natural artefacts were to be constant companions, carried on walks and installed in various locations on the lakes in snowfall, beneath Cedar, and by a frozen river. Connected to a small Fender Amp I used the guitar strings and the tunings as resonators of the environment and conditions. The sound mediated through the guitar, played by wind, temperature, falling snow, blue jays and squirrels became a series of compositions, recognisable as feedback, but imbued with the presence of local phenomena.
Often I carried the guitar on my back, the wind and my own movement creating a layering of rhythms and timbre, sometimes I used the stick as a bow for the strings.
On these walks, particularly in snow storms, I could often be heard before I was seen.
In the evenings I tried to recreate small models of the daily events in my bedroom, using a small fan heater, grasses collected from an island on the lake to play the guitar, and Amp, augmented by microphones outside my window amplifying the sound of melting ice from the roof.
For the public show I recreated a model of the lake on my bed. The guitar, hovering in feedback, was played by the fan heater, grasses and sound of melting ice. I invited individuals to sit in the room alone and listen to the mix. Later I walked with the guitar onto the ice, performed a short choreography and left the guitar and my coat hanging by a tree, played by the wind across Lac des Sucreries. As I walked across the ice back to the cabin I balanced the long Porcupine stick on my bare head.
These acts and experiments were made as homage to the place, the meeting of cultures and natures and the resonance of one within another.
Personally these experiences were a return to the curiosity and wonder of my childhood. Something I found in a place that stretched my ability to understand my sensory world and its meanings...
The exchange with the other artists was a rich and amazing mix of conversation, walks and companionship. A strong sense of a community, transient , but lasting, inspired the depth of the individual works.
Simon Whitehead