Comment garder le fil? / Keep in touch : Sylvie Tourangeau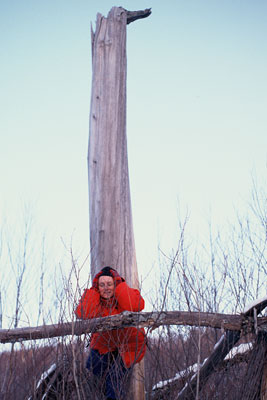 Performance
Text during the performance:
As a little girl of four, I would go with my lunch box bearing the name Daniel Boone.
My entire days were spent in the forest. I don't remember what I did. Have tried to recover this state, this presence today.
How to preserve the thread.
(Translation François Morelli)
Lorsque j'étais petite, autour de quatre ans, je partais avec ma boîte à lunch avec le nom de Daniel Boone* écrit sur le couvercle.
Je passais mes journées entières dans le bois. Je ne me souviens pas du tout de ce que je faisais durant tout ce temps.
Aujourd'hui, j'ai essayé de retrouver cet état, cette présence.
Comment garder le fil ?
*Un marcheur des bois célèbre